Detective agency services:
- Search for person in Russia
- Collection of information
- Checking of staff
- Surveillance of person
- Revealing matrimonial change
- Installing listening devices
- Preservation of secrecy




Check office premises, cars on the availability of:
- Spy device
- Listening bugs
- Tracking devices-
- Hidden spy cameras
- Hidden voice recorders





Satellite monitoring of transport of people and goods.
- Monitoring in On-Line mode
- Control over the fuel
- Travel history to three years
GPS / GLONASS monitoring web interface.
Security businesses, individuals in Nizhny Novgorod and Moscow
The agency of multilevel security "Economic Security" is a solid team of professionals who deals with business defense and personal safety of our customers. Our agency "Economic Safety" fulfills security of businesses and individuals since year of 2005. Ten years of successful activity bring to defense agency a fame of a serious and competent partner.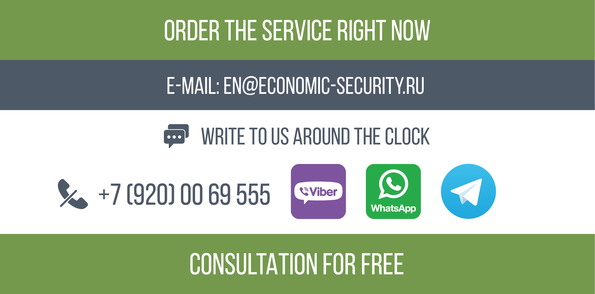 The offices of "Economic Security" are placed in such city as Nizhny Novgorod and in capital Moscow , an agency also has its personnel in the most areas of Russia.
A package multilevel services that we propose to customers, cover a wide range of activities:
- Detective activity (private detective);
- The gathering and verification of information;
- Defense of information;
- Check the room listening to the bugs, spy devices;
- Technical protection against listening, secret tracking, information theft;
- Testing by a polygraph;
- Lawyer and legal services;
- Physical security, personal bodyguard;
- GPS monitoring of people, vehicles, cargoes by satellite.
A multilevel security services for business are:
- Organization Department of Security Service Company;
- The maintenance by our security service;
- The juridical support of business;
- Audit procedure of customer's company;
- Distant maintenance, consultations on defense.
The "Economic Security" stuff consist of skilled specialists with a rich work history in defense and law enforcement agencies. All these experts have practiced before in the structures of the Federal Security Bureau (FSB), Ministry of Interior Affairs, and fiscal authorities. What's why, our clients' economic defense and security is a matter of our professional honor.
The cases of unauthorized mounting listening bugs in the offices are very often in conditions of a market-based economy and hard competition. Modern bugs and hidden cameras are compact, therefore it is easy to integrate them into any interior. Professional checking of office rooms towards the possibilities and variants of information leakage is one of main goals in informational security. Finding of hidden cameras and other eavesdropping instruments requires special tools and knowledge.
A component information defense against listening bugs and secret cameras is a guarantee of privacy. We offer the latest information protection devices for executive offices and meeting rooms that prevent any unpermitted access to private and closed information.
The specialists of "Economic Security" agency fulfill also legal consulting and services as for business representatives, the same for individuals. Areas of agency legal activity are civil, labor, administrative, criminal economic, and real estate law.
With our help cloud service GPS / GLONASS, transport, goods and people monitoring, precise control of movement, fuel consumption, modern WEB-interface allows to monitor the necessary objects from your phone, laptop or PC.
Private detectives deal with information gathering, partners' checking and detection. The company detective activity is based on the great operational, also investigative knowledge of our stuff. We start to realize the order promptly, keeping full confidentiality. We need minimum time for the execution even the most difficult tasks.